It's time for nostalgic album review day again!
I sometimes enjoy reviewing random albums I like that have been around for a while, but never get old.
Today it's Tommy Lee's 2005 solo venture, Tommyland: The Ride.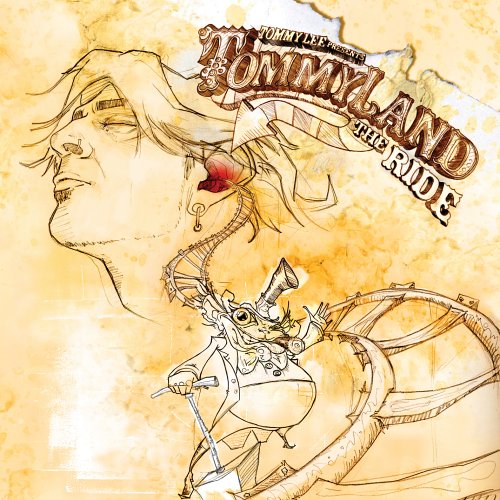 Blame today's nostalgic review on the fact that this morning I woke prematurely from a dream involving Tommy Lee and later found that the song "Makin' Me Crazy" from this album was stuck in my head. For that reason, I have been listening to this album and Motley Crue all morning. The reality is that I bought this album the week it was released, in August of 2005, and I've been listening to it in fairly heavy rotation since then, and it doesn't get old. The only track I ever hit skip on is a skit called "The Butler," which is just a little dialogue from some British dude. It's funny enough, and shows a little of Tommy's sense of humor, but it's really just unnecessary. Other than a less-than-desirable skit, though, the album is well-written, well-performed, and well-produced. I love it. Tommy is working on a new Methods of Mayhem album right now over on
ThePublic Record.com
. It's a fascinating venture to me, and I urge you to clicky the linky and go check it out. My curiosity is totally piqued, and I'm excited for the album to drop. I love the other Methods album - yes that's right, I love it.
Back to Tommyland - I'm the first to admit that Tommy's singing voice isn't amazing by traditional lead-singer standards - that's why he's a drummer, not a lead singer - but the man can sing, and for what it's worth, I love his singing voice. Honestly, I've had a celebrity crush on Tommy Lee for years; I could listen to him sing or talk all day long, so maybe you should take this review with a grain of salt, but I swear I know what I'm talking about here. All of that aside, he has a lot of vocal help on this album, from bigger names like Joel Madden (Good Charlotte) and Chad Kroeger (Nickleback) to lesser-knowns like Andrew McMahon (Jack's Manequin) and Dirty Harry (it's a chick, and I had never heard of her, either), and it all just works so well. The whole thing, beginning to end, is great. In fact, my biggest criticism is probably that the two versions of "Hello Again" (original album version, and acoustic bonus track) are too close together when you listen to it on repeat, with only the lead track "Good Times" in between.
THE HIGHLIGHTS:
Good Times - This song reminds me of chillin outside with a beer, bare feet and jeans on a breezy summer afternoon. Or driving to the beach barefoot with the windows open in the summer. It's just that kind of song, and one of the best on the album.
Tryin' to Be Me - I agree with Good Charlotte on this one: if celebrities want to bitch about being famous, I will gladly take care of their houses and money and cars for them, and they don't have to be famous anymore. You asked for it, buddy. That aside, I do sometimes think the paparazzi go too far with celebs who don't thrust themselves into it and honestly just try to live a normal life. I digress . . . this song is fun and catchy, despite the mild whiny bitch feeling of the lyrics. Chad Kroeger handles the vocals, and it's a perfect fit and a great complement to Nickleback's "Rock Star."
Tired – Another best of on this all around great album. Joel Madden was a great choice to sing the chorus of this angsty, upbeat tune. It totally reminds me of GC, actually – think Anthem or Lifestyles of the Rich and Famous – sort of angsty and angry, but upbeat and catchy at the same time.
Hello Again (especially the acoustic bonus track), Make Believe, and I Need You are all just beautiful songs.
Makin Me Crazy - I think it's the almost frantic chorus of this song that gets me, I'm not sure. There's just something about this song though. I wouldn't say it's one of the best on the album, but I think it's my personal favorite. Maybe it's Tommy's background vocal on the chorus, because that kind of gives me chills a little bit, but so does the ethereal music in the intro and opening verse. Sometimes on other songs, Tommy's singing voice almost sounds strained, like he's trying too hard, but this background vocal sounds so comfortable, and I love the way it complements Dirty Harry's rough-but-feminine lead vocal. I don't know, but this song gets stuck in my head for days at a time.
This is a go-to album for me, and has been since the day I got it.
If you like good rock n roll, it should be for you too.